'Dream Shadows' – the book
'Dream Shadows' is a recently self-published book of my favourite earlier poems.
The inspiration behind my book's design were the gorgeously bound Victorian era and Arts and Crafts period poetry books of the  nineteenth and early twentieth centuries. It was a great challenge trying to reproduce such a book in China today. The book's pages are hand sewn and the cover is a rigid book-board bonded with a black, padded polyurethane-leather. I went to great efforts to hunt down the best PU-leather from a Shanghai firm that produced a selection of vintage-look, fine leather grained materials.
The text paper is high quality 100 gms ivory-coloured, uncoated wood-free paper used for its archival qualities. The book-block edges are gilded in gold, and the title fonts on the cover are all gold-foiled stamped. Traditional black and white striped headbands and tailbands dress the ends of the book's spine that include a black ribbon bookmark.
The marbled endpapers were printed on 140 gms white wood-free card. It was too difficult to manually do the marbling myself as it require specialist art supplies and years of experience beyond my patience. I decided to use Sumo Paint's digital graphics application, that came from Google-Chrome, to do my marbling design. The hardest thing was colour selection while the 'wave function' did the rest.
The decorative title font is 'Harrington' and I must thank Professor Sam Wang for allowing me the use of his font design for my publication.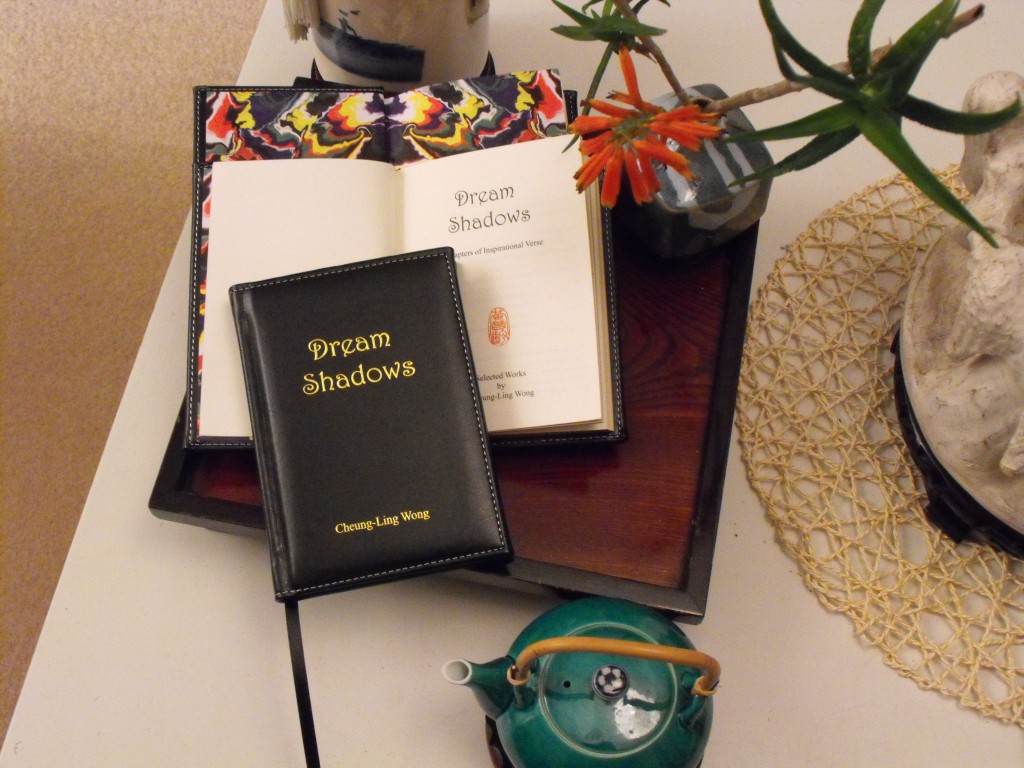 Please feel free to peruse 'Dream Shadows' Author's Introduction and About the Author pages with these links.
'Dream Shadows' retails for around $AUD 25.00 and is available at the following Melbourne (Australia) retail bookshops.
Readings® – books, Music & Film
Carlton Store – 309 Lygon Street
Carlton VIC
Tel. (03) 9347 6633
Malvern store – 185 Glenferrie Road
Malvern VIC
Tel. (03) 9509 1952
Hawthorn store – 701 Glenferrie Road
Hawthorn VIC
Tel. (03) 9819 1917
St Kilda Store – 112 Acland St
St Kilda VIC
Tel. (03) 9681 9255
Collected Works – Poetry & Ideas Bookshop
Level 1, Nicholas Building
37 Swanston Street
Melbourne VIC
Tel. (03) 9654 8873
Shop 1, 10 Parsons Lane
Olinda VIC
Tel. (03) 9751 0058
To order you copy today feel free to send us an email to info@cheunglingwong.com